Я не админ и не владелец проекта, админа не знаю!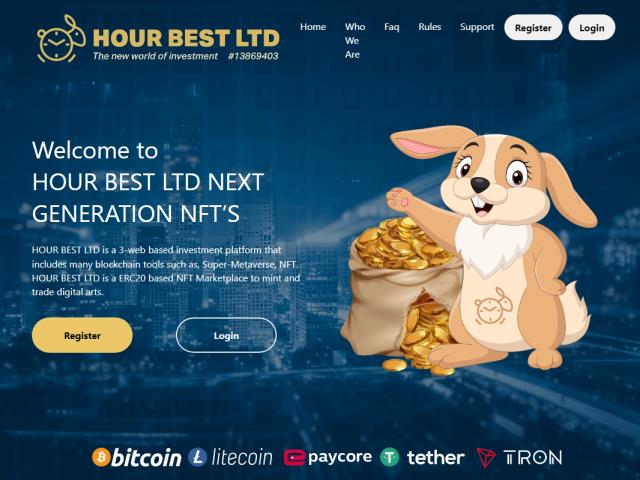 Старт:
воскресенье, 18 сентября 2022
Выплаты:
Instant (minimum withdrawal amount is $0.1 for ePayCore and $50 for crypto)
Реф-предложение
0.05% and up to 60%
Тех. данные
(информация взята с ресурсов ISP и H-Metrics (HyipLogs)):
Domain: NameCheap, Inc., 2022-09-03 - 2023-09-03 (registered for 1 year)
SSL: Sectigo RSA Domain Validation Secure Server CA valid from 06 Sep, 2022 to 07 Sep, 2023 - Sectigo Limited
Hosting: Genius Guard
IP-address: 185.186.54.128 (live sites on IP: 1)
Script: Gold Coders - licensed
Similar text HYIPs: 0
Similar design HYIPs: 0
Легенда (оригинал):
Цитата
HOUR BEST LTD is a 3-web based investment platform that includes many blockchain tools such as, Super-Metaverse, NFT. HOUR BEST LTD is a ERC20 based NFT Marketplace to mint and trade digital arts. Hour Best Ltd is for NFT investors to trade their NFT (non-fungible tokens), items or images and sell them on the platform. Hour Best Ltd users can add one or more items to the market to sell or trade at your discretion or earn a profit by investing in our platform through our experts trading images. All investment amounts in the market are done using tokens of common currencies that we accept. With our platform and Hour Best Ltd Tokens, investors are spared the worry of early action NFTs with growth potential before they increase in value. The works and artists on our platform go through a thorough review process and algorithm to ensure that the NFTs and artists we promote are identified as having the potential to increase in value quickly. Investors of Hour Best Ltd will have a proportional stake in all NFT creations advertised on our platform and will in turn benefit from NFT purchased on Hour Best Ltd's marketplace. In this way, investors who may not be able or willing to acquire an NFT in full can invest any amount they want and receive their profits in the same amounts.
Машинный перевод:
Цитата
HOUR BEST LTD — это инвестиционная платформа с тремя веб-сайтами, которая включает в себя множество инструментов блокчейна, таких как Super-Metaverse, NFT. HOUR BEST LTD — это основанная на стандарте ERC20 торговая площадка NFT для чеканки и торговли цифровыми произведениями искусства. Hour Best Ltd предназначена для инвесторов NFT, чтобы торговать своими NFT (невзаимозаменяемыми токенами), предметами или изображениями и продавать их на платформе. Пользователи Hour Best Ltd могут добавлять на рынок один или несколько предметов для продажи или обмена по своему усмотрению или получать прибыль, инвестируя в нашу платформу через наших экспертов, торгующих изображениями. Все суммы инвестиций на рынке осуществляются с использованием токенов распространенных валют, которые мы принимаем. С нашей платформой и токенами Hour Best Ltd инвесторы избавлены от беспокойства по поводу ранних действий NFT с потенциалом роста, прежде чем они увеличатся в цене. Работы и художники на нашей платформе проходят тщательный процесс проверки и алгоритм, чтобы гарантировать, что NFT и художники, которых мы продвигаем, идентифицированы как имеющие потенциал для быстрого увеличения стоимости. Инвесторы Hour Best Ltd будут иметь пропорциональную долю во всех творениях NFT, рекламируемых на нашей платформе, и, в свою очередь, получат выгоду от NFT, приобретенных на торговой площадке Hour Best Ltd. Таким образом, инвесторы, которые не могут или не хотят приобретать NFT в полном объеме, могут инвестировать любую сумму, которую они хотят, и получать свою прибыль в тех же суммах.
Принимает:
Bitcoin, Ethereum (ETH), Litecoin, ePayCore, USDT ERC-20, USDT TRC-20
Инвестиционные планы:


$20 - $15000: 100.1% - 1000% через 1 час

Registered company profile:
https://find-and-update.company-information...ompany/13869403
Company Address:
https://goo.gl/maps/sKXcn7FaesCUnujh7

Цитата
300.00 USD: Operation ID: 989848
Operation Date: 18.09.2022 19:47
Status: Completed
Amount: 300 USD
Consignee account: ePayCore E041739
Amount received: 300 USD
Processing fee: 0 USD
Note:
Deposit to HOUR BEST LTD User InstantMonitorCom
Эта тема была создана с целью информации. Я не несу ответственности за ваши решения!