Я не админ и не владелец проекта, админа не знаю!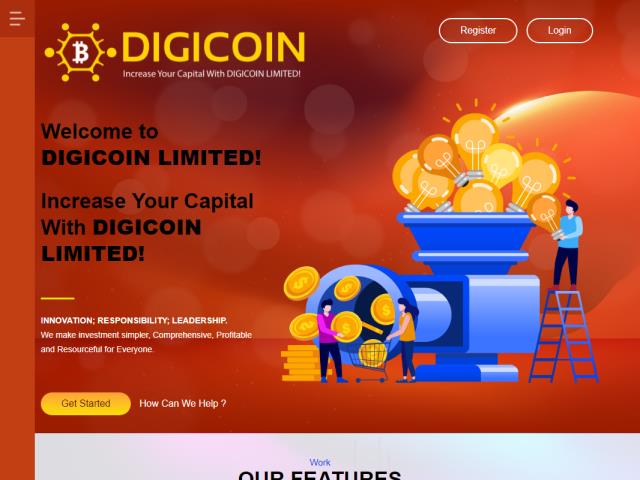 Старт:
вторник, 20 февраля 2018
Выплаты:
Instant (minimum withdrawal is 0.1 USD for PerfectMoney and ePayCore and $100 for crypto)
Реф-предложение
1% - 30% (depends on ref. deposit amount)
Тех. данные
(информация взята с ресурсов ISP и HyipLogs):
Domain: NameCheap, Inc., 2021-08-19 - 2024-08-19 (registered for 3 years)
SSL: Sectigo RSA Domain Validation Secure Server CA valid from 19 Aug, 2021 to 20 Aug, 2022 - Sectigo Limited
Hosting: Genius Guard
IP-address: 185.186.52.125 (United Kingdom / London) IP used in 2 projects / 0 payings
Script: GoldCoders Licensed
Similar text HYIPs: 0
Similar design HYIPs: 0
Легенда (оригинал):
Цитата
Your Investment is Safe and Profit are Guaranteed. Our experts have designed a platform through which trading has become much easier, especially for those who are less trained in this market. This platform of ours is working privately to determine its return in one year, and by investing in our platform, you will receive both daily profit and help to improve our platform. Digicoin Ltd is the trading platform in the blockchain that will finally allow traders to have one single point of control for all their investments, from crypto to the traditional market. Our mission is to offer traders a secure 360° trading experience allowing them to monitor all their portfolios, trade with advanced tools, invest in carefully selected trading strategies (bots, copy trading, signals), or improve their knowledge by following quality trading courses. In a bid to cater to the ever-growing demand for a unified crypto trading solution, we created DigiCoin a platform that provides users with solutions to virtually all crypto trading and blockchain-related problems. Unlike the trading platforms itself that offer minimal tools, DigiCoin is a diversified and highly advanced platform, for trading tools, that can be linked to all the major exchanges.
Машинный перевод:
Цитата
Ваши инвестиции безопасны, а прибыль гарантирована. Наши специалисты разработали платформу, благодаря которой торговля стала намного проще, особенно для тех, кто менее подготовлен на этом рынке. Эта наша платформа работает в частном порядке, чтобы определить ее доходность через год, и, инвестируя в нашу платформу, вы будете получать как ежедневную прибыль, так и помощь в улучшении нашей платформы. Digicoin Ltd - это торговая платформа в блокчейне, которая наконец-то позволит трейдерам иметь единую точку контроля над всеми своими инвестициями, от криптовалюты до традиционного рынка. Наша миссия - предложить трейдерам безопасную торговлю на 360 °, позволяющую им отслеживать все свои портфели, торговать с помощью передовых инструментов, инвестировать в тщательно отобранные торговые стратегии (ботов, копирование торговых операций, сигналы) или улучшать свои знания, следуя качественным курсам трейдинга. Стремясь удовлетворить постоянно растущий спрос на унифицированное решение для криптовалютной торговли, мы создали DigiCoin - платформу, которая предоставляет пользователям решения практически всех проблем, связанных с криптовалютой и блокчейном. В отличие от самих торговых платформ, которые предлагают минимальный набор инструментов, DigiCoin - это диверсифицированная и высокоразвитая платформа для торговых инструментов, которая может быть связана со всеми основными биржами.
Принимает:
Bitcoin, Ethereum, Litecoin, Perfect Money, Bitcoin Cash, Dogecoin, Dash, Bank Wire, ePayCore
Perfect Money:


U32339816 (DIGICOIN LIMITED) - Germany - Verified - 12.08.2021 - 0 point(s)

Инвестиционные планы:


$10 - $200000: 1% - 10% ежедневно в течение 3 дней (депозит возвращается)

$3000 - $200000: 5% - 15% ежедневно в течение 5 дней (депозит возвращается)

$8000 - $200000: 10% - 20% ежедневно в течение 10 дней (депозит возвращается)

$20000 - $200000: 20% - 30% ежедневно в течение 20 дней (депозит возвращается)

Registered company profile:
https://find-and-update.company-information...ompany/11215654
Company Address:
https://goo.gl/maps/XqXCXhVA2iPkCVSw6
Company Phone:
[URL="tel:+44 1892 71 0722"]tel:+44 1892 71 0722[/URL]

Цитата
333.00 USD: Operation ID: 213014641016
Operation Date: 24.08.2021 13:53
Status: Completed
Amount: 333 USD
Consignee account: ePayCore U582283584823
Amount received: 333 USD
Processing fee: 0 USD
Note:
InstantMonitorCom
Эта тема была создана с целью информации. Я не несу ответственности за ваши решения!